must-try pumpkin orange muffin recipe!
These pumpkin orange muffins are the real deal. They're easy to make, and they definitely please the pallet with the brightness of orange, comfort of pumpkin and warm spices reminiscent of all things autumn! But don't wait for pumpkin spice season to make these beauties. They're delicious all year round...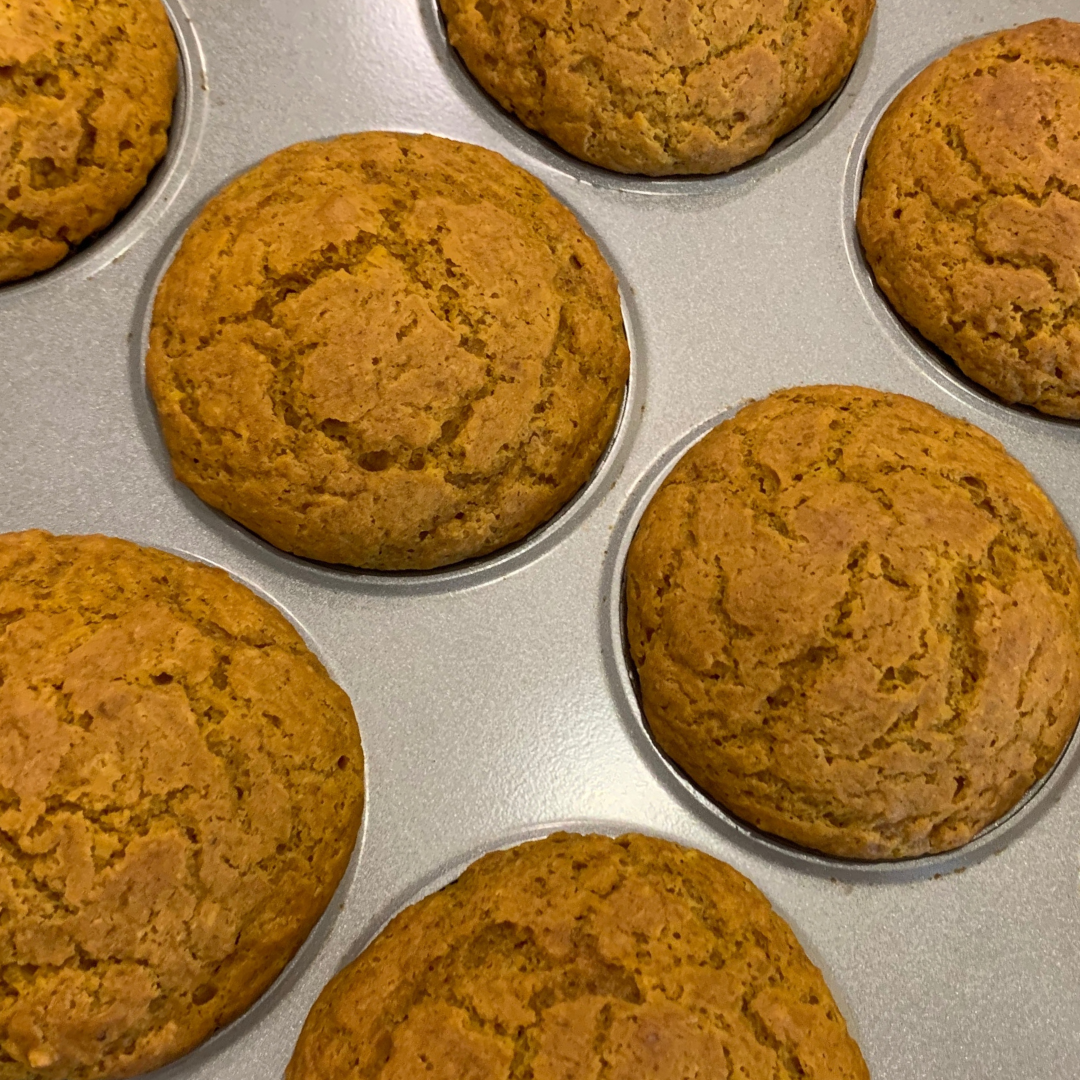 Ingredients
1 3/4 cups all-purpose flour
2 1/2 tsp baking powder
1/2 tsp baking soda
1/2 tsp salt
2/3 cup brown sugar
1 1/2 tsp cinnamon
1/2 tsp ground ginger
1/4 tsp nutmeg
1 egg
1/4 cup melter butter
1/2 cup milk
1/2 cup orange juice (it still counts if it's OJ from your kid's juice box ;)
3/4 canned pumpkin puree
Finely grated zest of 1 orange (or 3 drops Young Living Orange essential oil) * Note: not all essential oil brands are safe to ingest. Ensure you are using a brand like Young Living that has been approved to use for cooking/baking.
Instructions
Preheat oven to 400 degrees Fahrenheit.
Combine flour, baking powder, baking soda, salt and brown sugar in a large glass bowl and stir to mix ingredients.
In a separate glass bowl, whisk egg with butter, milk, orange zest (or Orange essential oil), orange juice and pumpkin. * Note if you are using orange essential oil in this recipe, make sure you're not using plastic mixing bowls as the citrus from the essential oil can affect the plastic.
Add wet ingredients to dry and mix by hand just until blended (don't overmix the batter or your muffins will be tough, and we don't want tough muffins)......
Line 12 cup muffin tin with liners (or you can grease the tins instead of using liners, but that's a ton of work)
Divide muffin batter evenly between 12 muffin cups (about three quarters full).
Bake in preheated oven for about 20 minutes or until muffins are lightly golden brown and cake tester is clean when inserted into muffin.
By the way...if you need some relaxation in your life, click the link below to get access to my FREE Yoga Nidra Guided meditation for relaxation.
The information presented here is for entertainment and informational purposes only. The information in this post is subject to interpretation and is an expression of opinion. It is not intended for, and does not replace professional, medical, legal, business, and/or health related opinions and advice. It is not a substitute for counselling or any other type of therapy, or medical advice from qualified professionals.