MUSSELS IN GARLIC, WHITE WINE AND ROSÉ SAUCE WITH RED PEPPERS AND ONIONS
If you love mussels, then this easy recipe is a must try! This is a definite go to for a quick and flavourful seafood dish without the hassle of long preparations and fussy ingredients. Quite frankly, I just wing it, but then had to document my steps and quantities so that I could create this recipe to share with other seafood aficionados!
My love affair with seafood is most likely because of my Portuguese background. I grew up eating seafood simmered in white wine, garlic, onions, parsley and hot pepper paste. Thinking about it makes my mouth water. This particular recipe isn't necessarily a Portuguese dish. I've added a few extra ingredients to make it richer and saucier (yes, that's a word - haha).
I normally serve these mussels over linguine, but of course, you can have them on their own. Just make sure you have something to soak up the sauce (your favourite pasta and/or crusty fresh bread is a match made in heaven). Once all of the mussels are gone, my husband Steve finishes the sauce with a spoon like he's eating soup!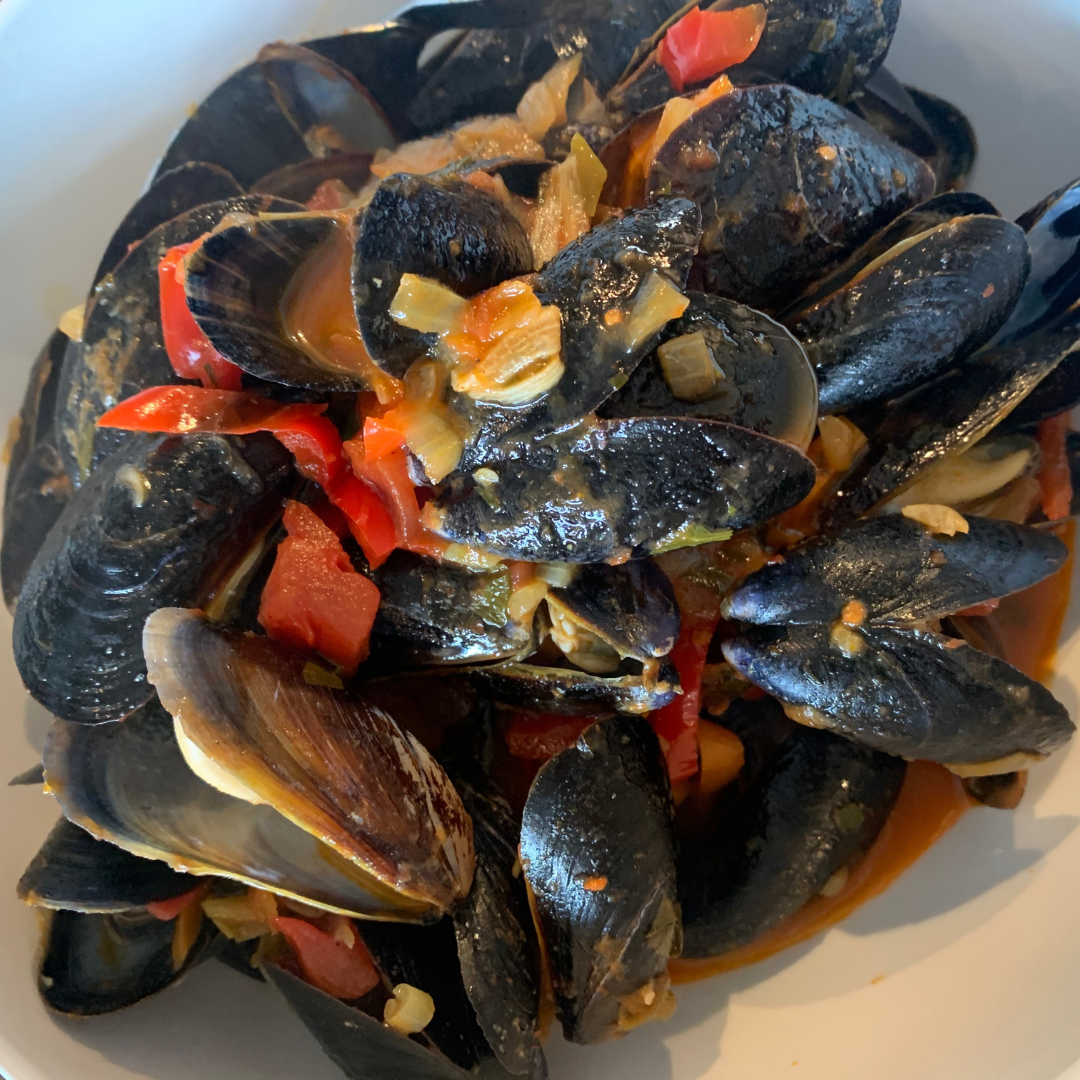 Ingredients
2 TBSP olive oil
1 yellow onion sliced thin
1 red pepper sliced thin
2-3 cloves of garlic minced
1/4 cup chopped parsley
1/2 cup white wine
798 ml of good quality roma tomatoes in sauce
(can be whole, diced or chopped)
1 TBSP Portuguese hot pepper paste or 1/2 tsp red pepper
flakes
1 TSP salt (or to taste)
Fresh ground black pepper to taste
1/4 cup 35% whipping cream
Approximately 3 lbs of fresh mussels rinsed and cleaned (discard any open or broken mussels before adding to sauce)
INSTRUCTIONS
Over medium heat, add olive oil to a large dutch oven or large pot. Add onion and pepper and stir occasionally until onions become translucent (about 5 minutes). Add garlic and parsley to the pot and keep mixing for about 30 seconds to ensure garlic doesn't burn.
Carefully add white wine and simmer for about 5-10 minutes over medium heat until alcohol has evaporated and wine has reduced. Add tomatoes, hot pepper paste (or flakes), salt and pepper and stir to combine. Cover with lid and let simmer over medium to low heat for about 20-30 minutes stirring occasionally. If you are serving this dish with pasta, boil the water for your pasta at this point and cook pasta according to directions.
Once sauce has reduced, if desired, take a hand held blender and puree the sauce just a bit to thicken and combine even more. This step is optional, but I like to blend the sauce to incorporate the flavours and break up the tomatoes. Check for seasoning and adjust salt and pepper as needed.
Add whipping cream and allow to come to a gentle boil. Add the cleaned and rinsed mussels and cover for about 10-12 minutes. Stir mussels occasionally.
Once mussels are open, it's time to eat! They don't take long to cook so make sure you don't over cook them or they become a rubbery consistency..... and that's no bueno......Discard any unopened mussels.
Bon appetit!
The information presented here is for entertainment and informational purposes only. The information in this post is subject to interpretation and is an expression of opinion. It is not intended for, and does not replace professional, medical, legal, business, and/or health related opinions and advice. It is not a substitute for counselling or any other type of therapy, or medical advice from qualified professionals.