THE best butternut squash soup
What better way to celebrate the fall than with a steaming bowl of roasted butternut squash soup? This tasty recipe will not only warm your soul but will also bring an explosion of fall flavours to your palate. Soup is my happy place. I absolutely love this recipe, and so does my friend Diana. She asked me for the recipe, so I had to painstakingly write this one up because I normally just wing it! 😉 I hope you love this as much as me and Diana do. 😋
Ingredients
1 medium butternut squash (about 3 lbs), peeled, seeded and chopped into cubes.
1 - 2 tablespoons olive oil
2 tablespoons butter
1 medium onion diced
2 large carrots diced
2 stalks of celery diced
5 cups of chicken stock (or vegetable stock)
1/2 cup heavy cream
1/2 teaspoon poultry seasoning
1/2 teaspoon dried thyme leaves or 1 teaspoon fresh thyme leaves
1/2 teaspoon salt (or to taste)
black pepper to taste
Instructions
Preheat oven to 425 degrees Fahrenheit.
Place cubed butternut squash in a roasting pan and drizzle with 1 - 2 tablespoons of olive oil.
Sprinkle with salt and pepper and pop in pre-heated oven.
Roast the squash for 20-25 minutes or until it's tender.
Remove squash from oven.
While squash is roasting, melt butter in a dutch oven or large soup pot over medium-low heat ensuring you don't brown the butter.
Add diced onions, carrots and celery and cook over medium-low heat stirring often until vegetables are beginning to soften - about 10 minutes.
Add 4 cups of stock and roasted squash to the pot.
With lid on, simmer over low heat for about 15-20 minutes until vegetables are very tender.
Remove from heat.
Puree the soup in a blender or with a hand held blender until you have a velvet like consistency.
Return the puree to the pot and add remaining 1 cup of chicken or vegetable stock, heavy cream, poultry seasoning, thyme, salt and pepper.
Stir to combine and heat through.
Adjust seasonings as necessary.
If the soup is too thick, add more stock to desired consistency.
Serve warm with thyme leaves and some freshly ground black pepper (optional, but looks pretty)!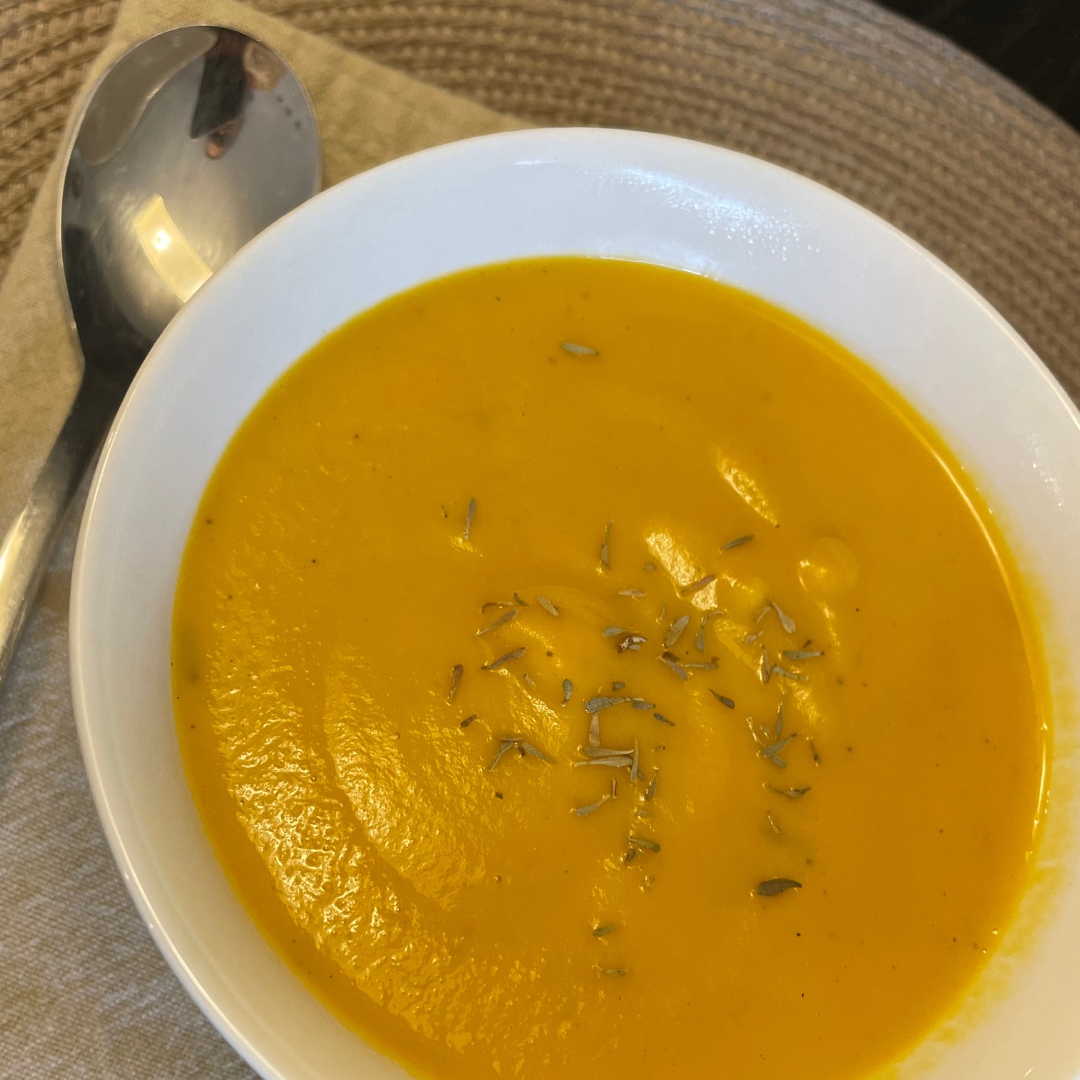 This roasted butternut squash soup embodies the spirit of fall in every spoonful. So whether you're snuggled up by the fire or hosting a festive gathering, this soup is sure to impress your taste buds and warm the hearts of everyone who indulges.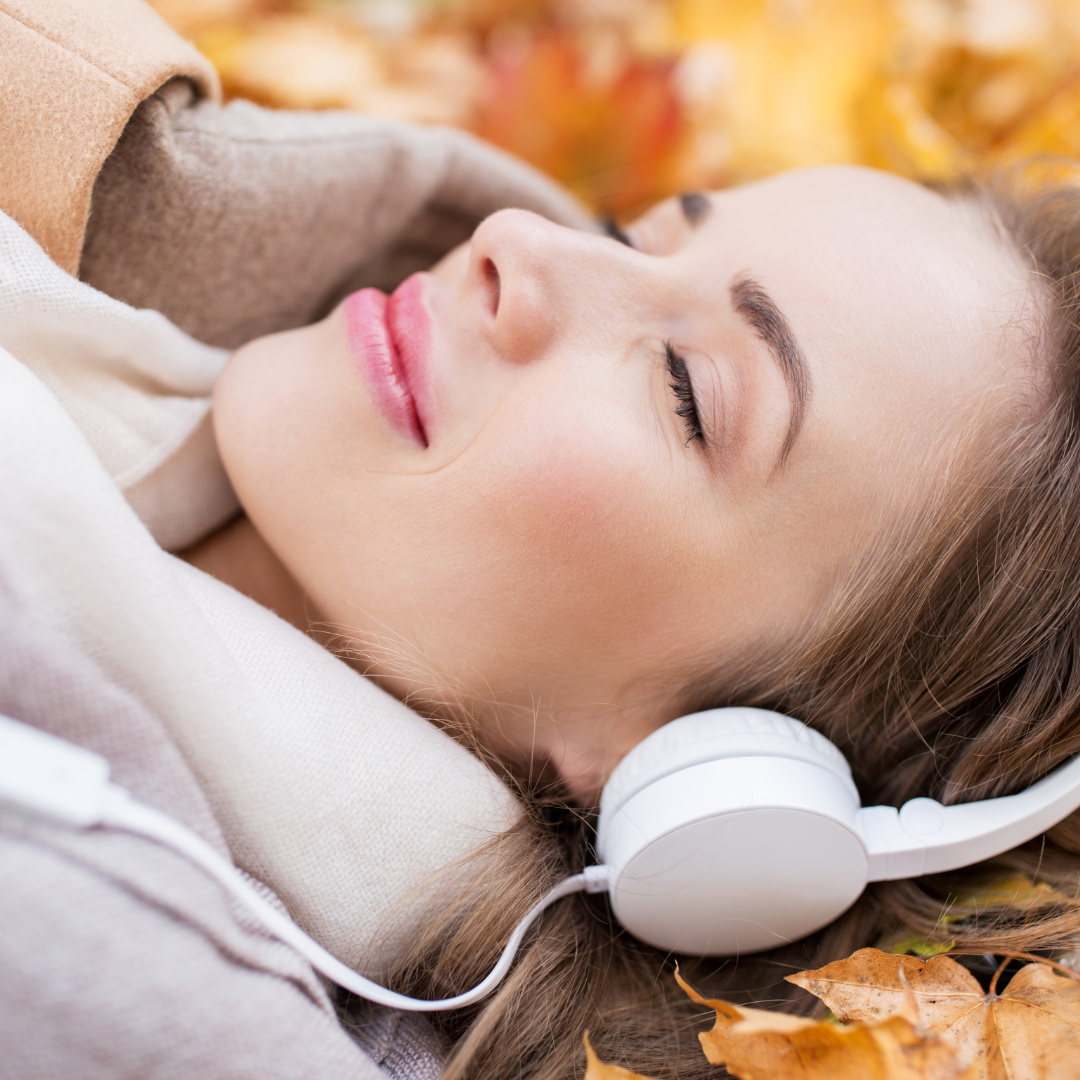 If you're looking for a simple and relaxing practice this fall
, check out my on-demand yoga nidra meditation created exclusively for this autumn season. This meditation is only available until October 31, 2023, so don't delay! Self-discovery and relaxation awaits you..... 🍁 🍂
Hey there! Just a quick head's up, you definitely want to be on my email list so you don't miss a thing. As a bonus, you'll get exclusive access to my FREE Yoga Nidra meditation to help you get that deep rest you've been craving!
And don't worry, I won't send you any annoying spam or sell your email address to anyone (yuck!). Plus, if you ever feel like it's not your cup of tea, you can unsubscribe with just a click. So why wait? Jump on board and let's have some fun!
The information presented here is for entertainment and informational purposes only. The information in this post is subject to interpretation and is an expression of opinion. It is not intended for, and does not replace professional, medical, legal, business, and/or health related opinions and advice. It is not a substitute for counselling or any other type of therapy, or medical advice from qualified professionals.