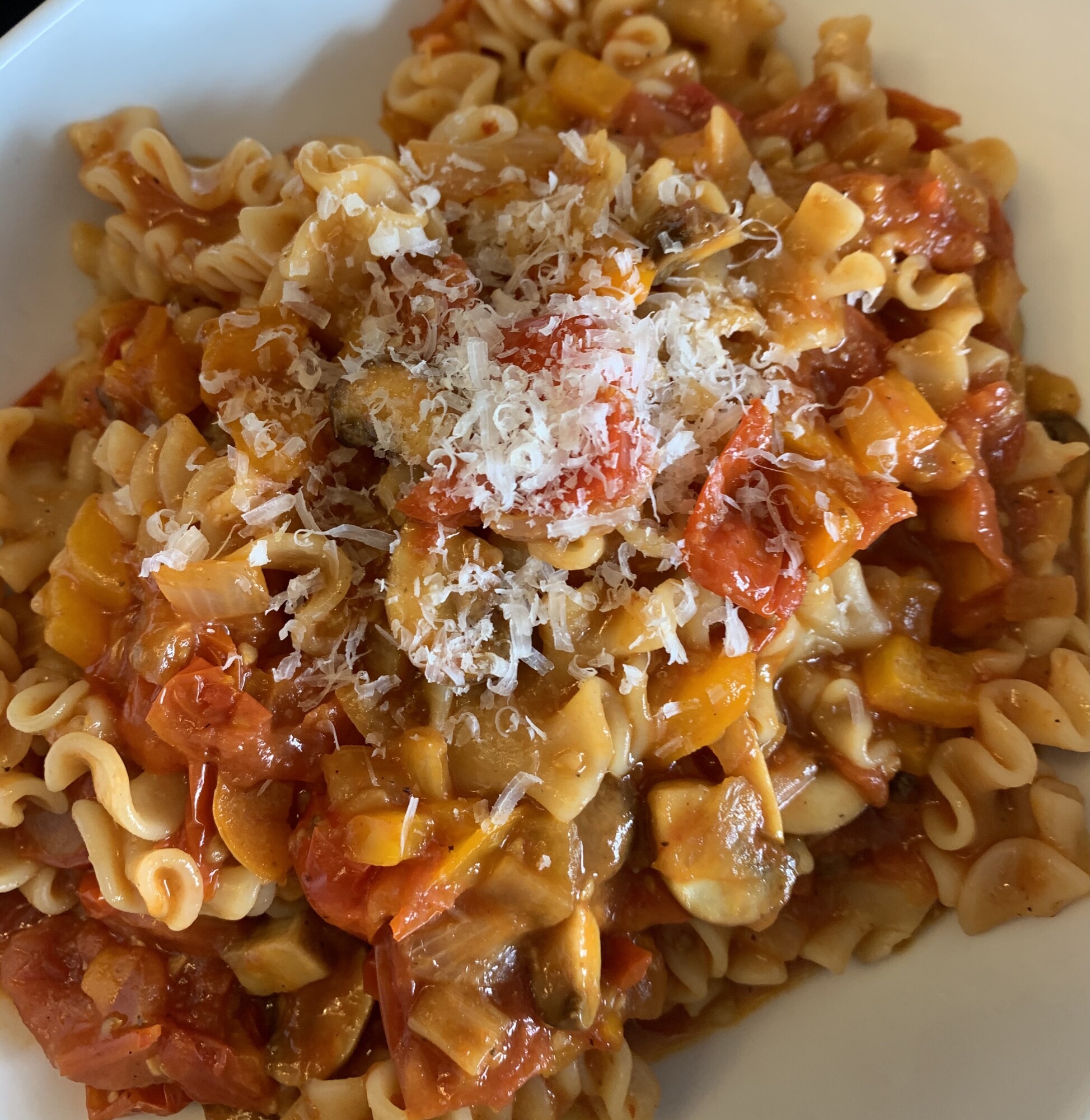 Cherry Tomato and Vegetable Pasta Sauce You Can Whip up in Flash
I LOVE pasta! I joke that I should have been born Italian because I really haven't met a pasta that I didn't like....In my fantasy world, pasta would be considered one of the major food groups.
Because I work from home, I don't often prepare my lunches ahead of time (although I really should and remind myself of this almost every day). When I'm working, and lunch time rolls around, I usually stand in my pantry, starving at this point, and pray that the lunch fairies whip me up a delicious and healthy meal! Well, of course that doesn't happen, so sometimes I resort to cooking pasta and adding a jar of premade tomato sauce (confession time....I love Costco's White Linen pasta sauce when I'm hangry and in a hurry to make a quick meal).
But, whenever possible this girl prefers to cook from scratch so I like to have quick recipes to make especially during those times when the hunger meter is tipping the breaking point.
I really love this recipe for a few reasons:
It's super quick to put together.
It's a great way to use up vegetables that you have most likely forgotten about in the back of your fridge and are turning kinda wrinkly (you know what I mean).....
You can tailor it however you want. If you don't like mushrooms, don't add them. If you like spinach, add spinach....you get the idea. Basically add whatever vegetables you have on hand.
The base is olive oil, sautéed onions, garlic and cherry tomatoes. Whatever else you decide to add is really up to you.
This, my friend, is not a fussy recipe. Make it your own and you'll be happy because you know exactly what's in it and it cooks up in the same amount of time it takes to boil and cook your pasta. Win-win! 👏🏼
This sauce recipe makes enough for two servings of pasta.
Ingredients
2 cups cherry tomatoes washed and cut in half
1 small onion diced
1/2 cup mushrooms sliced
1 red pepper diced
1 tablespoon of olive oil
1 clove of garlic crushed or finely chopped

Salt and pepper to taste

A few leaves of fresh basil, or a pinch of dried basil 🌿

Optional - Crushed red pepper flakes (or if you're Portuguese like me, I guarantee you have a jar of "pimenta" in your fridge. Go ahead and add some of that to your sauce. I know you will because we put that in everything we make!)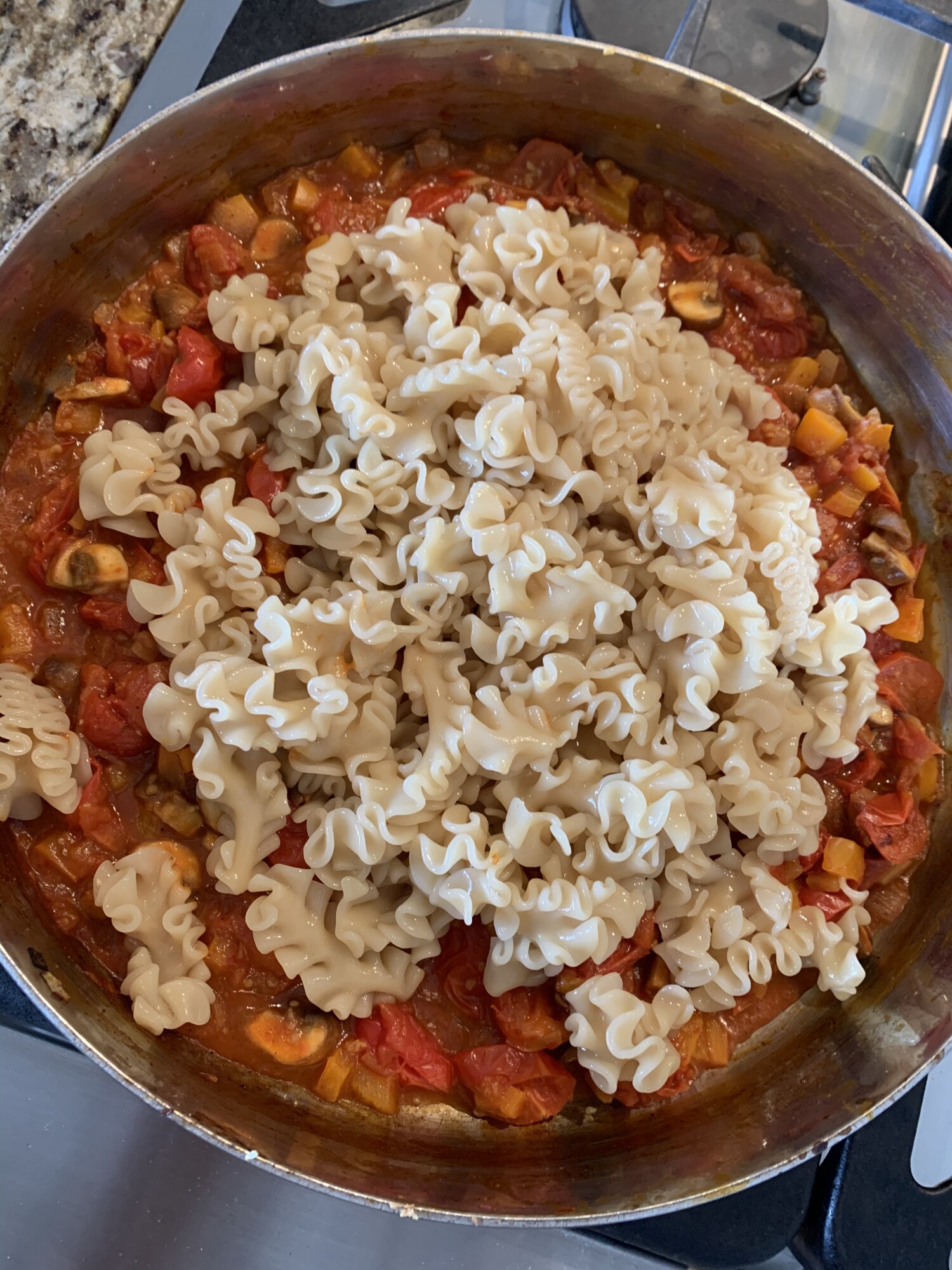 Instructions
Begin boiling water for pasta and cook desired pasta according to directions on box.
Add olive oil to a large sauté pan, over medium heat.
Add onions, peppers and mushrooms and sauté for about 5 minutes until onions become translucent.
Make sure to stir regularly to ensure the veggies aren't burning.
Add garlic and sauté for 30 seconds.
Add tomatoes, salt, pepper and crushed red pepper flakes or pimenta, if using, and stir to combine.
Continue cooking over medium heat, stirring occasionally, until tomatoes have broken down and sauce thickens.
When pasta is finished cooking, add to sauce and stir to combine.

Top with freshly grated Parmesan cheese and enjoy!

Bon appetit!
This is a great option for quick lunch and dinner ideas because it's loaded with vegetables! I like to use lentil pastas for my dishes because it's gluten free and full of fibre and protein!
Next time you're praying for your own lunch fairies to deliver you a meal, know that you can whip this one up in a flash! Enjoy. 😋
By the way...if you need a little relaxation in your life, click the link below to get access to my FREE Yoga Nidra Guided meditation for relaxation.
The information presented here is for entertainment and informational purposes only. The information in this post is subject to interpretation and is an expression of opinion. It is not intended for, and does not replace professional, medical, legal, business, and/or health related opinions and advice. It is not a substitute for counselling or any other type of therapy, or medical advice from qualified professionals.