If you're like me and your tummy can't tolerate cow's milk, then this recipe is a must have in your fridge! This is so easy to make and it's delicious beyond compare. Even my picky daughter Samantha won't argue with me when I'm using cashew milk for recipes. And she'll even have it with her cereal!
This milk will only last a few days in the fridge so I make it often so it's fresh. And I even make some batches on the fly if I've run out and don't have any already made. It's not a fussy recipe and if your'e in a pinch, no need to soak the cashews ahead of time.
I love this recipe because you don't have to strain it!! Whatttt?? Yep, all you nut milk lovers out there know what I'm talking about. It's great to make nut milks, but straining it can be a pain. Luckily, this recipe doesn't require any straining, so no more complaining that you can't make your own nut milk, ok???
You can use any glass bottles for the finished product. I like to use empty kombucha bottles (I may or may not have an obsession with kombucha), or mason jars can do the trick as well. If you're fancy, you can buy some glass bottles with snappy lids from IKEA or your local dollar store.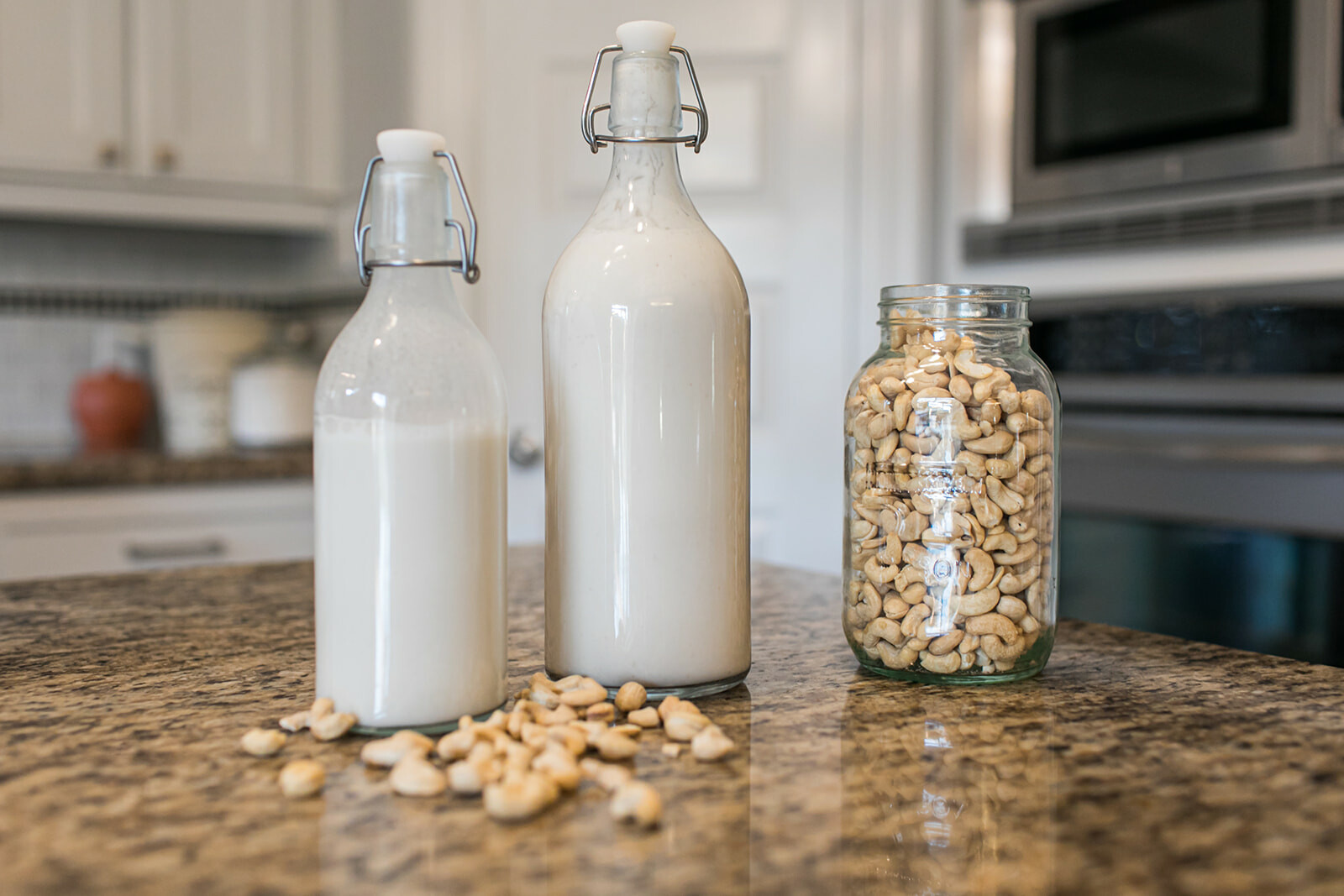 Ingredients
1 cup of raw unsalted cashews

5 cups of filtered water

pinch of sea salt

1 medjool date (optional) - can sub 1 TBSP maple syrup or honey

2-3 glass jars
Instructions
Measure 1 cup of raw unsalted cashews into a glass bowl and cover with about two cups of water. Let sit for approximately three hours.

Drain and rinse cashews and place in a high-speed blender with 1 cup of water and 1 medjool date. Note, if using maple syrup or honey, add at this point.

Blend at high speed until the cashews are smooth and creamy and no lumps remain.

Add 4 more cups of water, and pinch of sea salt.

Blend again at high speed until the milk is perfectly smooth.

Pour into glass jars and refrigerate.

Will keep for about 4-6 days in fridge. Make sure to shake before using.
Healthy cooking is a passion of mine. I take pride knowing I made something that nourishes me and my family and the best part....it's loaded with high doses of love. I hope you and your family love this recipe as much as we do!
By the way...if you liked this post, click the link below to get access to my FREE Yoga Nidra Guided meditation for relaxation.
The information presented here is for entertainment and informational purposes only. The information in this post is subject to interpretation and is an expression of opinion. It is not intended for, and does not replace professional, medical, legal, business, and/or health related opinions and advice. It is not a substitute for counselling or any other type of therapy, or medical advice from qualified professionals.