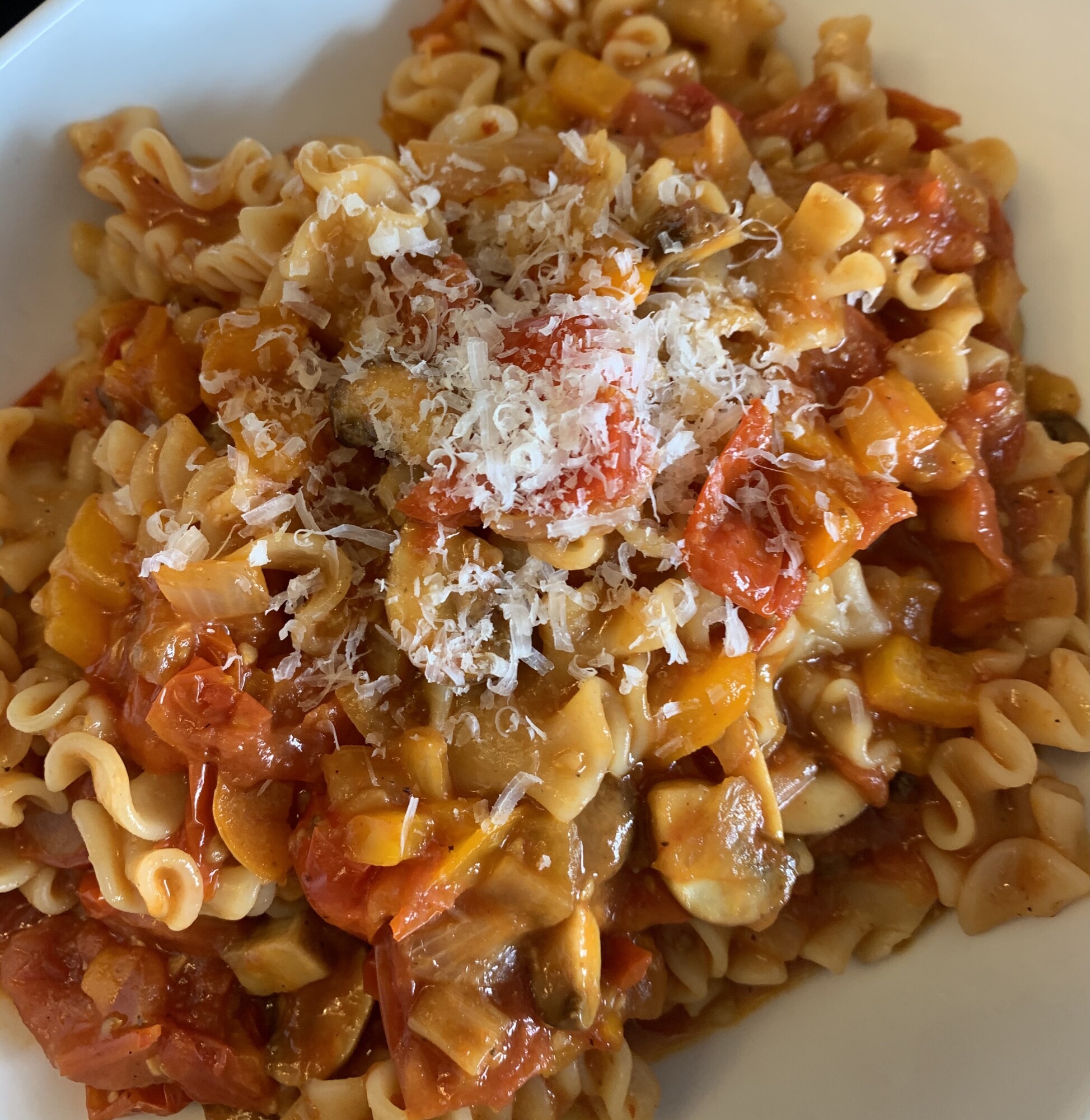 Cherry Tomato and Vegetable Pasta Sauce You Can Whip up in Flash
I LOVE pasta! I joke that I should have been born Italian because I really haven't met a pasta that I didn't like....In my fantasy world, pasta would be considered one of the major food groups.
Because I work from home, I don't often prepare my lunches ahead of time (although I really should and remind myself of this almost every day). When I'm working, and lunch time rolls around, I usually stand in my pantry, starving at this point, and pray that the lunch fairies whip me up a delicious and healthy meal! Well, of course that doesn't happen, so sometimes I resort to cooking pasta and adding a jar of premade tomato sauce (confession time....I love Costco's White Linen pasta sauce when I'm hangry and in a hurry to make a quick meal).
But, whenever possible this girl prefers to cook from scratch so I like to have quick recipes to make especially during those times when the hunger meter is tipping the breaking point.
I really love this recipe for a few reasons:
It's super quick to put together.
It's a great way to use up vegetables that you have most likely forgotten about in the back of your fridge and are turning kinda wrinkly (you know what I mean).....
You can tailor it however you want. If you don't like mushrooms, don't add them. If you like spinach, add spinach....you get the idea. Basically add whatever vegetables you have on hand.
The base is olive oil, sautéed onions, garlic and cherry tomatoes. Whatever else you decide to add is really up to you.
This, my friend, is not a fussy recipe. Make it your own and you'll be happy because you know exactly what's in it and it cooks up in the same amount of time it takes to boil and cook your pasta. Win-win! 👏🏼
This sauce recipe makes enough for two servings of pasta.
Ingredients
2 cups cherry tomatoes washed and cut in half
1 small onion diced
1/2 cup mushrooms sliced
1 red pepper diced
1 tablespoon of olive oil
1 clove of garlic crushed or finely chopped

Salt and pepper to taste

A few leaves of fresh basil, or a pinch of dried basil 🌿

Optional - Crushed red pepper flakes (or if you're Portuguese like me, I guarantee you have a jar of "pimenta" in your fridge. Go ahead and add some of that to your sauce. I know you will because we put that in everything we make!)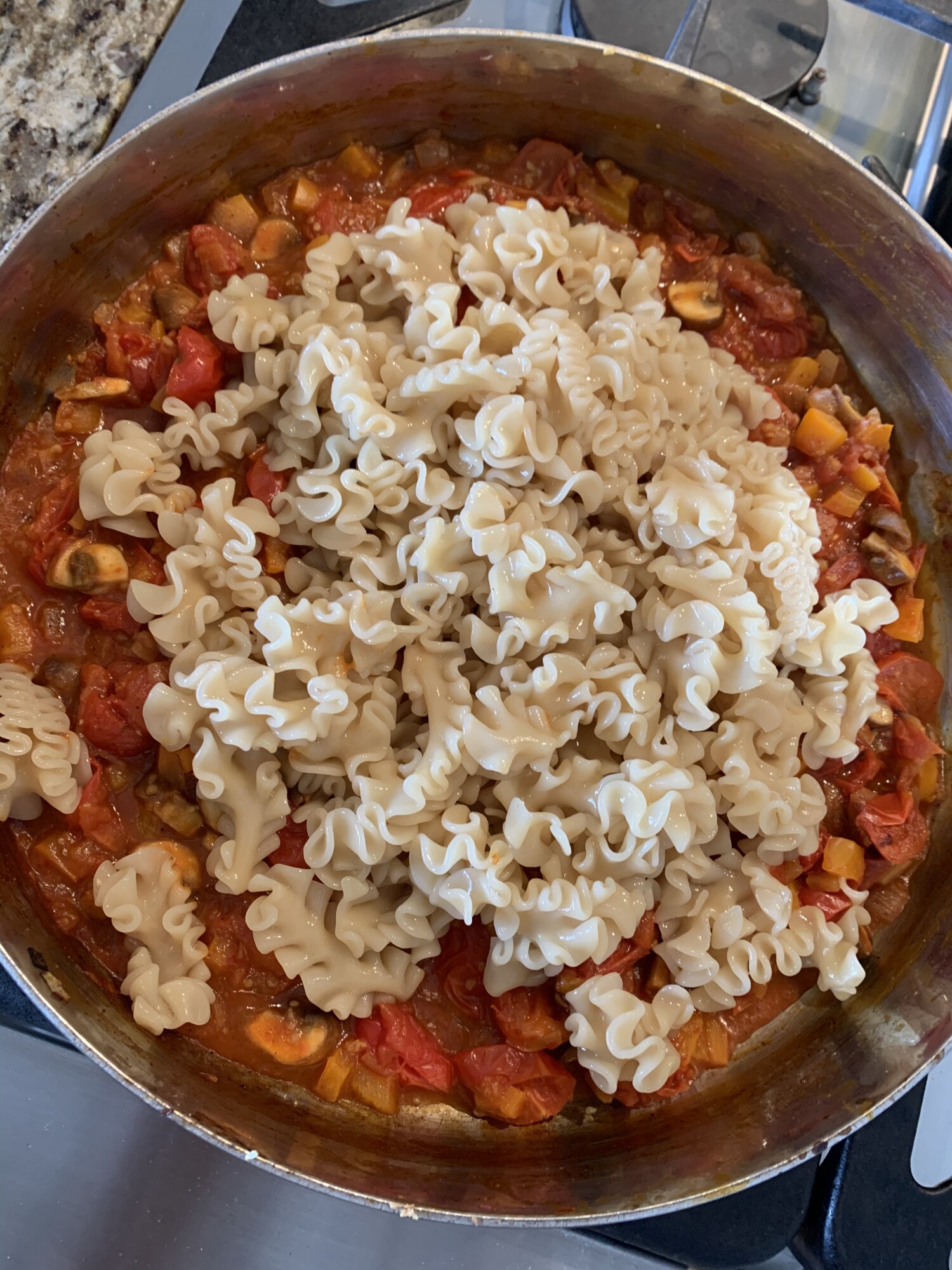 Instructions
Begin boiling water for pasta and cook desired pasta according to directions on box.
Add olive oil to a large sauté pan, over medium heat.
Add onions, peppers and mushrooms and sauté for about 5 minutes until onions become translucent.
Make sure to stir regularly to ensure the veggies aren't burning.
Add garlic and sauté for 30 seconds.
Add tomatoes, salt, pepper and crushed red pepper flakes or pimenta, if using, and stir to combine.
Continue cooking over medium heat, stirring occasionally, until tomatoes have broken down and sauce thickens.
When pasta is finished cooking, add to sauce and stir to combine.

Top with freshly grated Parmesan cheese and enjoy!

Bon appetit!
This is a great option for quick lunch and dinner ideas because it's loaded with vegetables! I like to use lentil pastas for my dishes because it's gluten free and full of fibre and protein!
Next time you're praying for your own lunch fairies to deliver you a meal, know that you can whip this one up in a flash! Enjoy. 😋
By the way...if you need a little relaxation in your life, click the link below to get access to my FREE Yoga Nidra Guided meditation for relaxation.


Dairy Free "Cream" of Broccoli Soup Recipe
There's no doubt about it, I LOVE SOUP!!!! I love it so much, it was the first course at my wedding. I could eat it every-single-day! Nothing tops a warm bowl of soup at lunchtime for this girl.
There are so many reasons for my love of soup. Perhaps it's because you make it once, and can eat it for a few days. You can load it with healthy ingredients and it's easy to heat up once it's made (that's my kinda lunch). Because of all the different recipes out there, trust me, you'll never get sick of soup!
One of my favourites is cream of broccoli soup. But, my tummy isn't a fan of dairy, so I make this pot of velvety goodness with cashews instead of cream and nutritional yeast instead of cheese. Even if you're not vegan, I promise, you won't miss the cream or the cheese in this version of broccoli soup and it takes under 30 minutes to make.
---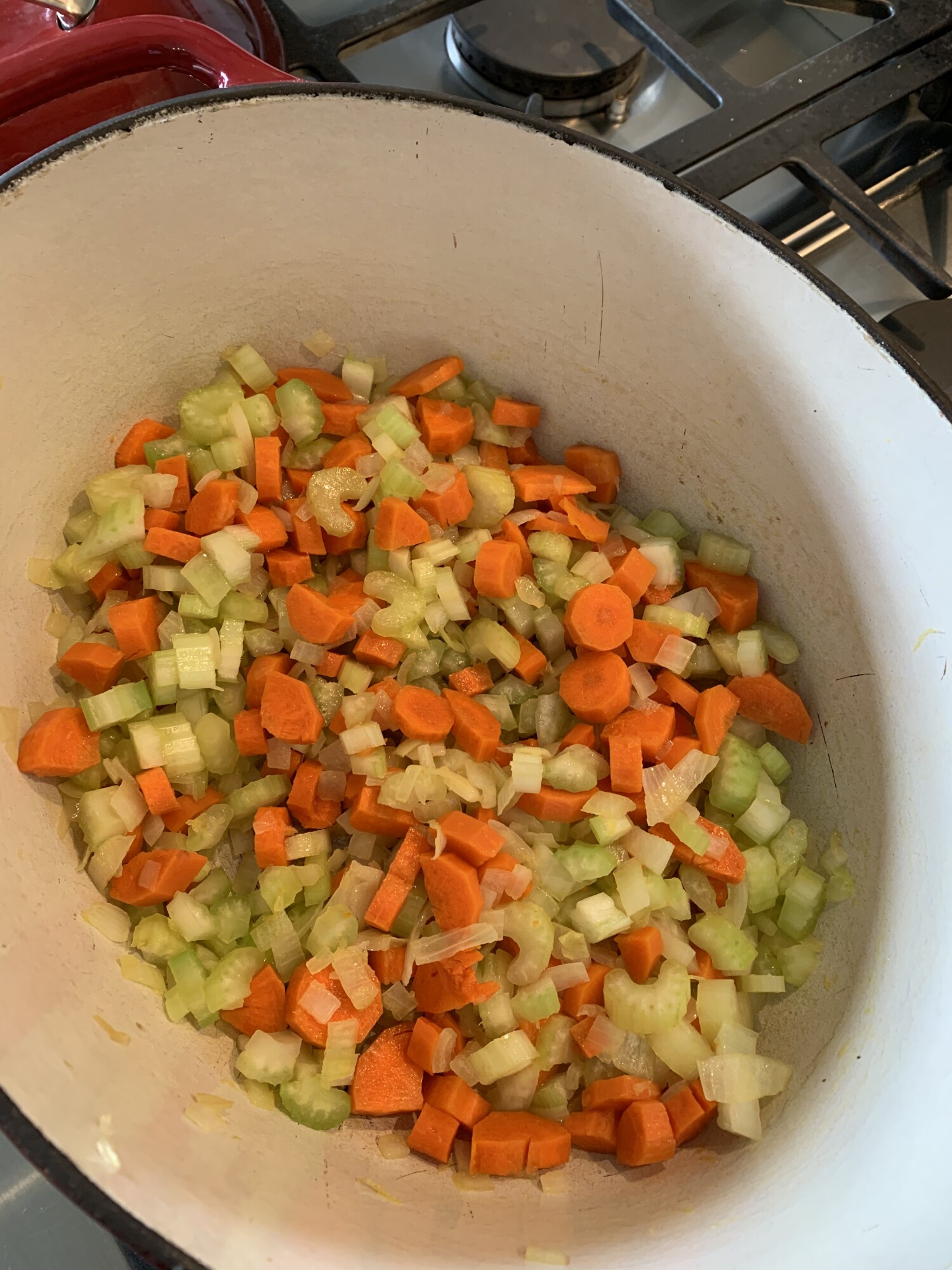 Ingredients
1 tablespoon of coconut oil or olive oil
1 large onion diced
4 large carrots peeled and diced
4 stalks of celery diced
1 clove of garlic minced
1 sprig of thyme (or 1/2 teaspoon dried thyme)
6 cups of vegetable stock (store bought or homemade)
4-5 cups of broccoli florets chopped into bite sized pieces (about one head/bunch of broccoli you would typically buy at the grocery store)
2 tablespoons of nutritional yeast (this makes up for the cheesy flavour in most broccoli soups)
1 cup of raw cashews soaked in two cups of water for three hours (or I cup of cashews boiled with two cups of water for 5 minutes)
Salt and pepper to taste
INSTRUCTIONS
Over medium heat, add coconut oil to a large pot or dutch oven
Add diced onions, carrots and celery to the pot stirring occasionally until onions are translucent (about 5 minutes)
Add minced garlic and stir for about 30 seconds - 1 minute ensuring not to burn garlic
Add sprig of thyme (or dried thyme) and 6 cups of vegetable broth, cover with lid and bring to a boil
Once broth starts boiling, turn down and simmer for about 8-10 minutes until carrots and celery begin to soften
Add broccoli florets and simmer for another 8-10 minutes
While soup is simmering, drain and rinse soaked cashews and blend with 1 cup of water in a high speed blender until no lumps remain (NOTE: if you haven't pre-soaked the cashews, place them in a pot with 2 cups of water and boil for 5 minutes. Then drain and rinse the cashews and blend with one cup of water in a high speed blender until no lumps remain.
Once broccoli and vegetables have softened add pureed cashews, nutritional yeast and salt and pepper to taste
Mix all ingredients together and remove sprig of thyme
Taste and adjust seasonings as desired
Serve warm
If soup is too thick, add more water or broth. If soup is too thin, simply continuing simmering until desired liquid evaporates.
This soup keeps well in the fridge for a few days. When reheating soup, if it's too thick, add more water or broth to desired consistency.
Now go enjoy your soup already!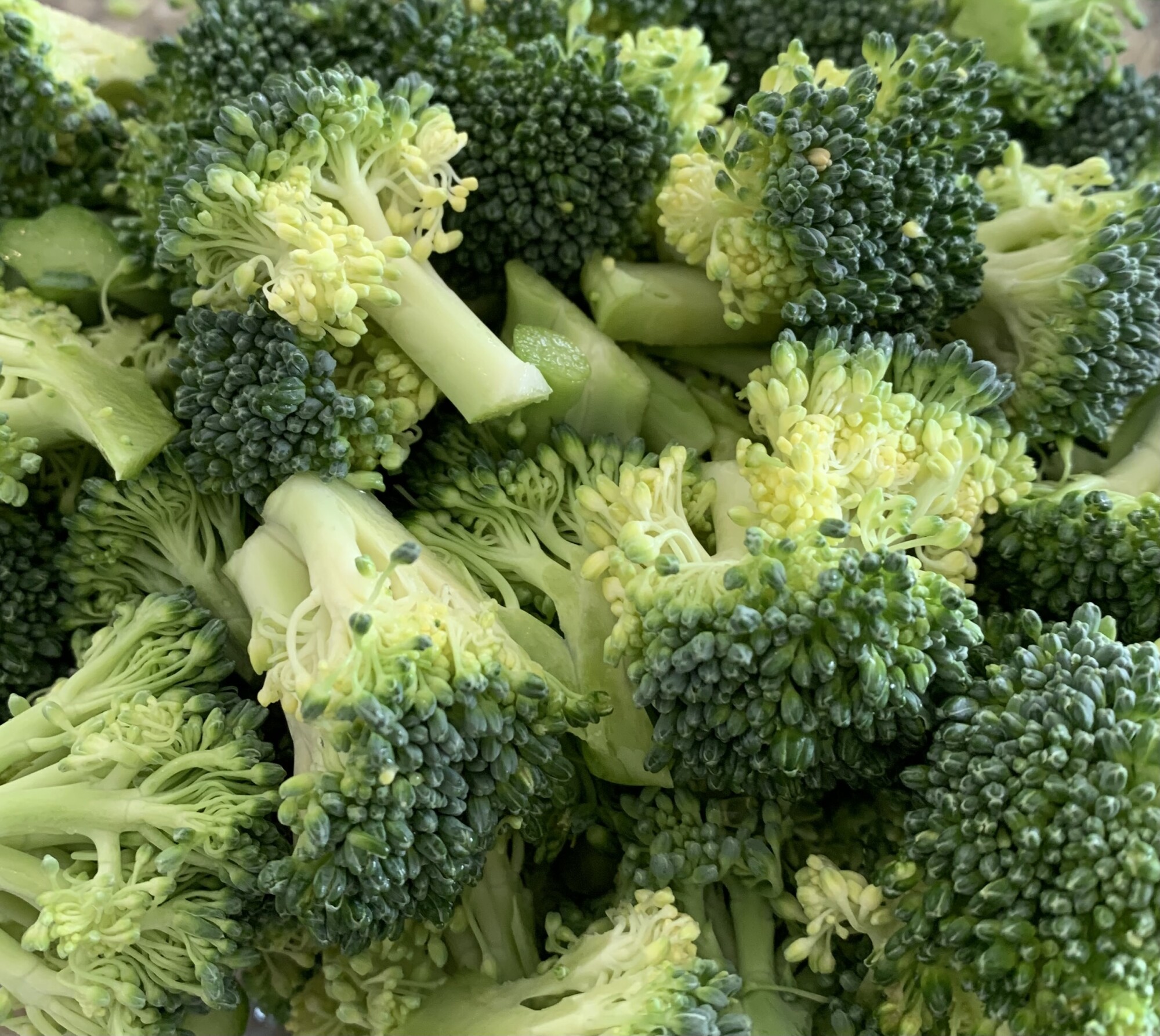 By the way...if you liked this post, click the link below to get access to my FREE Yoga Nidra Guided meditation for relaxation.
The BEST Banana Gluten Free Pancake Recipe
Breakfast is seriously my favourite meal of the day. I'm not sure why....maybe it's because I'm a morning person, or the fact that I'm always hungry and after not eating for like 12 hours gets me kinda hangry in the morning..... Whatever it may be, I LOVE my breakfasts!
Which brings me to the all star pancake. Pancakes hold a special place in my heart. My mom absolutely loves pancakes and we used to make them together when I was growing up. I'm actually surprised I still love pancakes as much as I do because my mom's version always had bran in them (yep, they did...) and she notoriously over cooked them. But maybe it's the time we spent cooking together that keeps the memories so enjoyable. And now for the bit or irony, my mom uses my pancake recipe now - and no more bran to be found in the batter!
Being gluten free isn't always easy when you're trying to feed a family of non-gluten free people. Pancakes are no exception. I used to make two separate pancake recipes - one for me and one for my family. And then I had an epiphany. Since I'm the only one who cooks, they have no choice but to eat what I'm making...and so the story goes. They now eat my gluten free pancakes a few times a week and they are filled with protein and fruit, so I feel good knowing they are getting a diverse range of nutrients! Having a lot of banana in the recipe kind of distracts from the gluten free taste side effect - you know what I'm talking about! I also cheat a little and add a chopped up (gluten free) chocolate sandwich cookie to their pancakes and voila - cookies and cream gluten free pancakes.....who can say no to that?
I hope you love this recipe as much as me and my family do!
Serves 4
Ingredients
4 ripe bananas

4 eggs

1 TBSP maple syrup

1 TBSP baking powder

1 cup gluten free flour blend of your choice (if you're not gluten free, you can use all purpose flour)

pinch of salt

butter for greasing pan
Instructions
Mix all ingredients, except flour in a blender until smooth.
Pour wet ingredients into a large mixing bowl.
Add flour and whisk until no lumps remain.
Butter non stick pan or griddle and measure 1/4 cup of batter per pancake.
Cook on medium to low heat.
Gently flip when pancakes have small bubbles forming on top. Note: These are very fragile pancakes when flipping. Be gentle and I promise you'll get your grove on in no time when it comes to flipping these babies. Patience and experience will be your friend.
Cook for a couple of more minutes until pancake is cooked through.
Don't forget you can add endless options for toppings, or mix into the batter. I always cook one cup of frozen wild blueberries and add to my stack of pancakes along with hemp hearts. You could also try adding chocolate chips to the batter. The possibilities are endless!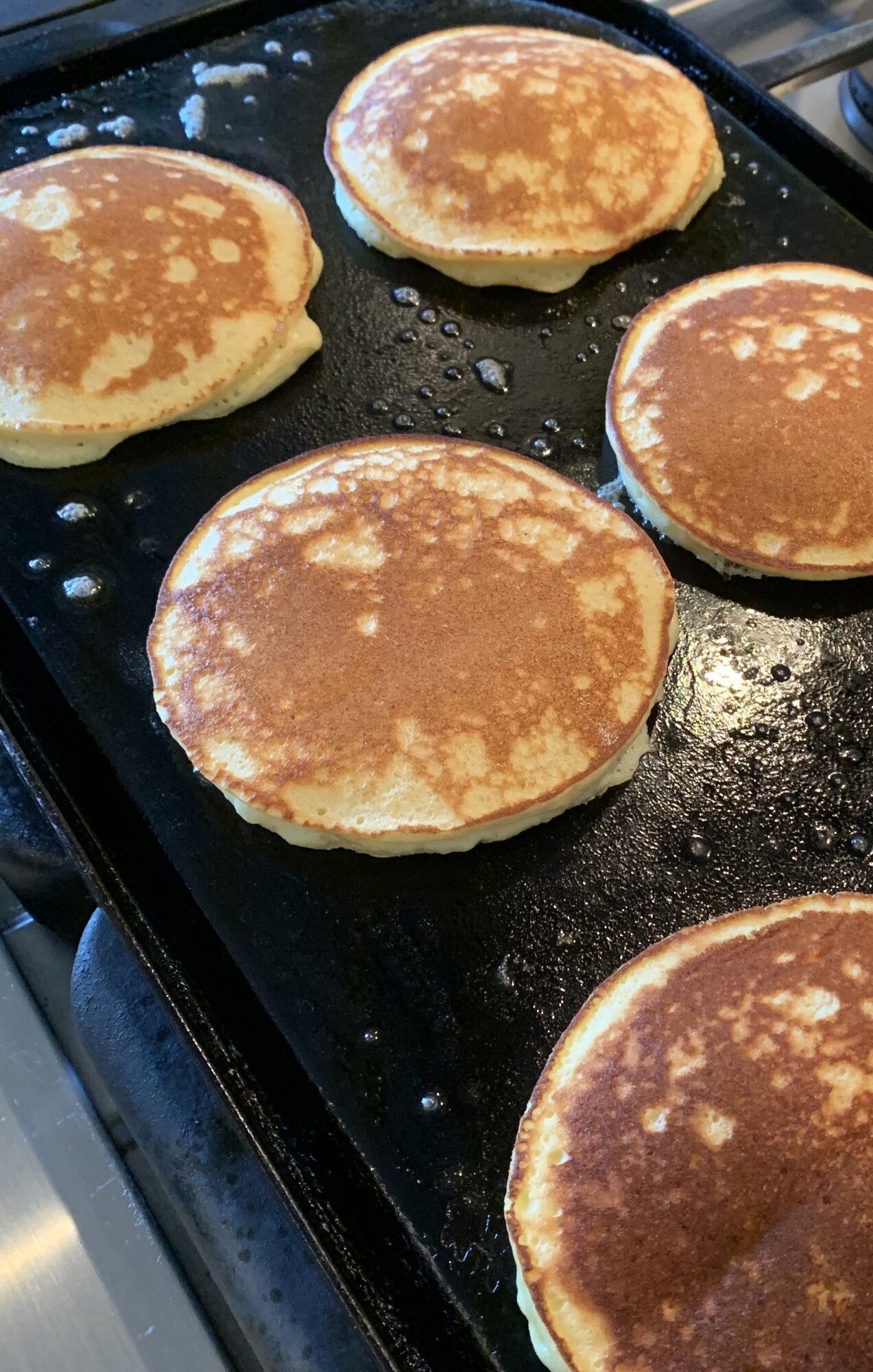 By the way...if you liked this post, click the link below to get access to my FREE Yoga Nidra Guided meditation for relaxation.