I know, I know......it's all about the PSL. You're either a fan, or you're not. Kinda like cilantro. You either love it or hate it. There is no in between..... I happen to be on the LOVE pumpkin spice latte team!
My only issue is that I really don't care for the artificial flavours in most pumpkin spice lattes available at our usual coffee stops. They are too sweet and most actually don't even have pumpkin....it's usually just flavoured syrup that gives it the "pumpkin spice" flavour.
So, what's a girl to do when she wants an authentic pumpkin spice latte made with all natural ingredients? Well, she makes it herself of course. And what is better than enjoying a PSL? Enjoying a mocha pumpkin spice latte! Who knew the humble pumpkin spice latte could climb to greater heights? I didn't think it was possible, but with the addition of a little cocoa, this delicious pick me up gets even better.
My daughter Samantha is also a fan of pumpkin spice (because all of it's nice).....so she asked me if we could make some lattes and enjoy them together one beautiful fall afternoon. I couldn't pass up this opportunity to indulge with my own little pumpkin (or big cause she is taller than me) so we concocted our own and the rest is history. The addition of cocoa was a test. She asked me what it would be like to make the latte with chocolate, so I said let's find out! I must say our little experiment turned out amazingly delicious and it was super easy! I see many, many more of these in our future.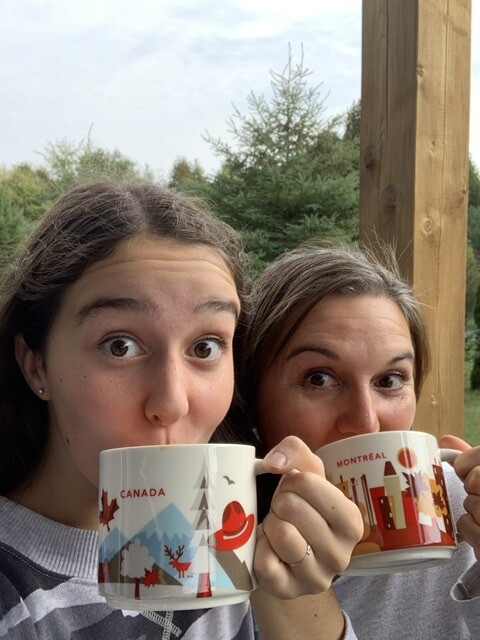 Try this for yourself, you won't be disappointed!! And if you're not a fan of chocolate, just omit the cocoa powder.
You can whisk all these ingredients together while the mixture is on the stove, or once the mixture comes to a boil, you can use a handheld blender to blend it all up and create some froth.
Mocha Pumpkin Spice Latte
Ingredients
2 cups milk (can sub non dairy milk if desired)

1 cup freshly brewed espresso or very strong coffee

3 TBSP of pure pumpkin puree

1 TBSP pure maple syrup

2 tsp cocoa powder

1/2 tsp ground cinnamon

1/4 tsp ground ginger

1/8 tsp ground nutmeg

1/8 tsp ground cloves
Directions
Whisk all ingredients in small saucepan over medium heat

Once mixture begins to boil, remove from heat

Blend with hand blender to combine and create some froth

Pour into two mugs

Top with cinnamon

Top with whipped cream and caramel sauce if desired

Add extra maple syrup for more sweetness if desired
What are you waiting for? Go make some yummy mocha pumpkin spice lattes. Oh yeah and this recipe makes 2 servings, but that doesn't mean you can't drink it all yourself.....just sayin'. 😉
By the way...if you liked this post, click the link below to get access to my FREE Yoga Nidra Guided meditation for relaxation.


The BEST Banana Gluten Free Pancake Recipe
Breakfast is seriously my favourite meal of the day. I'm not sure why....maybe it's because I'm a morning person, or the fact that I'm always hungry and after not eating for like 12 hours gets me kinda hangry in the morning..... Whatever it may be, I LOVE my breakfasts!
Which brings me to the all star pancake. Pancakes hold a special place in my heart. My mom absolutely loves pancakes and we used to make them together when I was growing up. I'm actually surprised I still love pancakes as much as I do because my mom's version always had bran in them (yep, they did...) and she notoriously over cooked them. But maybe it's the time we spent cooking together that keeps the memories so enjoyable. And now for the bit or irony, my mom uses my pancake recipe now - and no more bran to be found in the batter!
Being gluten free isn't always easy when you're trying to feed a family of non-gluten free people. Pancakes are no exception. I used to make two separate pancake recipes - one for me and one for my family. And then I had an epiphany. Since I'm the only one who cooks, they have no choice but to eat what I'm making...and so the story goes. They now eat my gluten free pancakes a few times a week and they are filled with protein and fruit, so I feel good knowing they are getting a diverse range of nutrients! Having a lot of banana in the recipe kind of distracts from the gluten free taste side effect - you know what I'm talking about! I also cheat a little and add a chopped up (gluten free) chocolate sandwich cookie to their pancakes and voila - cookies and cream gluten free pancakes.....who can say no to that?
I hope you love this recipe as much as me and my family do!
Serves 4
Ingredients
4 ripe bananas

4 eggs

1 TBSP maple syrup

1 TBSP baking powder

1 cup gluten free flour blend of your choice (if you're not gluten free, you can use all purpose flour)

pinch of salt

butter for greasing pan
Instructions
Mix all ingredients, except flour in a blender until smooth.
Pour wet ingredients into a large mixing bowl.
Add flour and whisk until no lumps remain.
Butter non stick pan or griddle and measure 1/4 cup of batter per pancake.
Cook on medium to low heat.
Gently flip when pancakes have small bubbles forming on top. Note: These are very fragile pancakes when flipping. Be gentle and I promise you'll get your grove on in no time when it comes to flipping these babies. Patience and experience will be your friend.
Cook for a couple of more minutes until pancake is cooked through.
Don't forget you can add endless options for toppings, or mix into the batter. I always cook one cup of frozen wild blueberries and add to my stack of pancakes along with hemp hearts. You could also try adding chocolate chips to the batter. The possibilities are endless!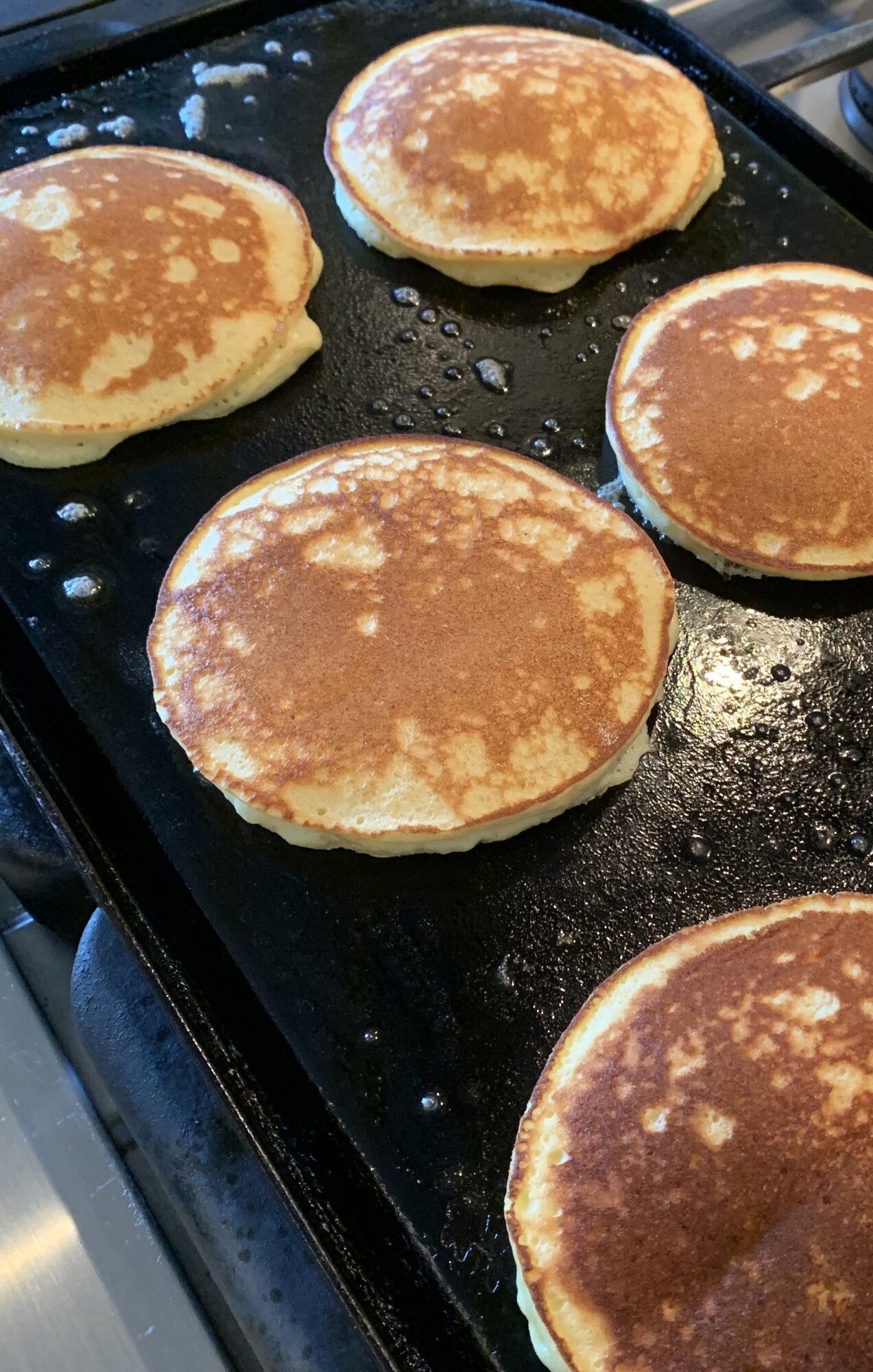 By the way...if you liked this post, click the link below to get access to my FREE Yoga Nidra Guided meditation for relaxation.